I have a mountain biking injury.

More specifically, I have a collection of weaknesses from a very bad overstrain of basically everything in my arms and hands.

Due to that, sustainable gaming has become a key focus for me. Wearing compression sleeves helped immensely, and I wear them any time I'm on a computer, but nothing has as much impact as the methods of direct input – the keyboard and mouse.

In the height of my injury, I had to mouse left-handed. I was once locked out of my apartment because I could not twist the door handle. With treatment, physical therapy and time, I was able to play again and resume a normal life, but certain things in life can bring back the pain surprisingly quickly.  Using a phone in bed, or stress habits.

A particularly stressful series of months lead to me aggravating these late last year, which in turn lead me to find ways to reduce the stress placed on my hands. I'd had the same setup for a while, but in March, the middle-click on my Razer Mamba Tournament Edition began to die, so I popped down to the Razer Store and picked up something new.
Razer Basilisk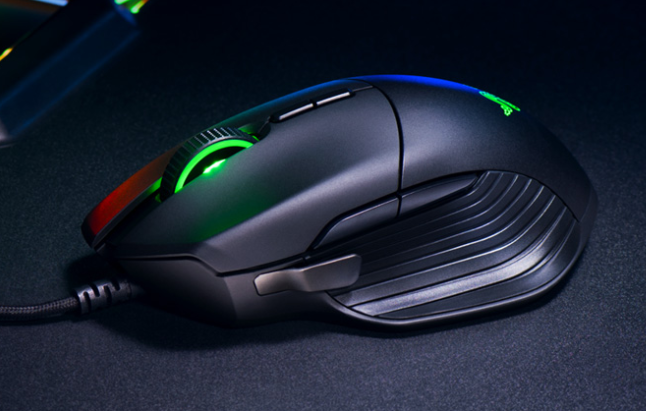 Pros:
Feel: Fits well in the fingers. Ridged thumb area had good grip.
Tracking: Tracked really well, very precise
Buttons: Replaceable/removable thumb toggle
Visual: Kinda cool lookin'
Cons:
Buttons: Heavy middle click
Weight: A little heavy, 107g
This mouse, while very precise, actually made things worse. It was heavy! I couldn't believe it. Turns out, Razer's weight listings for mice constantly swaps between including and excluding cable. At 107g "without cable" it was heavier than the Mamba TE's 128g "including cable". This was supposed to be lighter, not heavier!  The shorter, stubbier design made it really easy to control with mostly the fingers, which allowed a lot of precision in tracking. However, after a few games, elbow pain developed. Plenty of people use this without an issue, but we're here to find a solution to playing with an injury. So I moved it to the broadcast computer and kept iterating.

Digging through my stash, I pulled out an old favorite.
Logitech G502 Proteus Core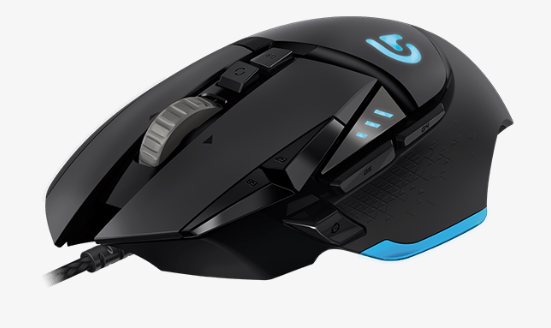 Ahh, memories. I've bought three of these for various computers I use in the past so I was hopeful that perhaps the way forward was backwards. Alas, I was wrong.

Pros:
Feel: Great ergonomics and hand fit
Buttons: Easy access thumb button placement
Buttons: Free-wheel + horizontal scroll
Visual: Pointy, aggressive
Cons:
Weight: Surprisingly heavy (165g).
A positively tank-like 165g. Even with all the weights removed, nothing was going to make my previous favorite mouse viable for me in 2018. I loved the G502 Proteus Core enough to have bought three of them – one for work, one for home and one to live in my backpack in case I need to use a laptop while I'm out. The buttons have a really nice travel, it tracks well and the large contact patches mean you can make very precise movements. It stays extremely flat during fast movements through the tapered base, and has very consistent performance through high intensity and slow-paced movement. But despite being perfect for 2015 Chris, it was still far too heavy for injured 2018 Chris.

Back to the drawing board. By which I mean, to Twitter to ask for suggestions.
With new crowdsourced direction, I got ordering. A few days later, the first package arrived.
Logitech Pro
At 85 grams, this was significantly lighter than anything else I'd used so far. It was minimal and clean, but something wasn't right. It felt too thin in one direction and too thicc in the other, and the cable dragged whenever I moved it. Something about the cable's texture, or weight, or something, felt like it caused small, near imperceptible differences in resistance during large movements.  

Pros:
Weight: Light (85g)
Value: Good value for money, $99
Buttons: Short click action
Cons:
Other: Logitech Gaming Software exists and you must use it
Buttons: Thumb button placement is odd
Feel: The shape is weird for my hand. YMMV
Feel: Cable is oddly weighty and drags
Visual: Nothing special
I used the Logitech Pro for a fair amount of time, went relatively even in most of the games I played, and wasn't particularly good or bad. Logitech Gaming Software kind of sucks but I was prepared to deal with it. The visuals are simple, but we're here to find fitment, so I'm prepared to give it a pass there.

A lot of people are going to love this mouse, and it would probably benefit a lot with the use of a bungee.. I couldn't even tell you what didn't feel right about it for me. Objectively, this is Very Good and everyone else that I called over to play with it loved it..But I just hadn't found the one.

We were moving on to the final boss battle. The last package arrived. My hopes were high with a weight this low.
FinalMouse Ultralight Pro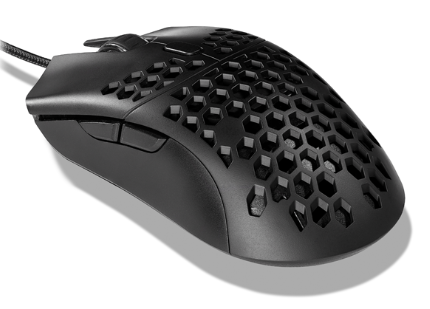 At 67g, the Ultralight Pro has shed most of its skin through hexagonal punchouts that drop grams without sacrificing structural integrity.  I was psyched. I had to order it from Ebay new in box because it was sold out everywhere, even in Canada. $147 of my human dollars later, I had it in my hands. It was truly weightless. An absolute gem. The tracking was beautiful, the buttons crisp, and the aesthetics unique.

Until I started to miss clicks. What was going on? Had my hands gotten weaker?
They had not. The mouse body is much longer than the usual stub-style that I use. With my natural positioning, my fingers didn't move far enough down the face to hit optimal pressure point for clicking. Putting more effort into clicking strained my hands. Adjusting my hand position so the heel of the mouse sat into my palm made me lose most of the micro in my fingers.

I was devastated. The lightest, most incredible gaming mouse in existence and the shape isn't for me. After four straight losses and more misclicks than I can count, I returned it to its box.

Pros:
Weight: The lightest (67g)
Utility: No management software
Tracking: Precise
Visual: Striking
Cons:
When it comes to esports, weight matters. Heavy action keyboards tire your fingers, meaty headsets add strain on your neck. But of all the things you want lighter in your rig, the humble mouse is the most important. It moves the most, it engages the most parts of the body, and requires the most precision and speed. If you only play a couple of games at a time you may not feel it, but if you're going hard, for a long time, it will probably catch up with you.

That weekend, I returned to the Razer Store for a broadcast, and sat down on the broadcast computer. I'd been using it for an hour without pain before I noticed that it fit perfectly in my hand, responded well, and had perfect thumb button placement. What was this magical pointing device?
Razer Mamba Tournament Edition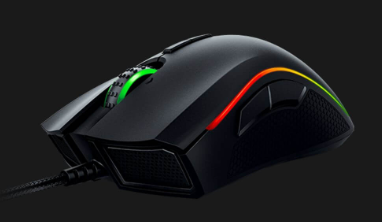 That's right. My original mouse, but new. I was an idiot. I'd only moved away from it because mine was failing. Half dejected, half excited, half feeling like an idiot and 100% unable to do percentage math, I purchased another Mamba Tournament Edition brand new, put it back on my computer, and never looked back.

Pros:
Weight: Light (weight unknown, est 70g)
Tracking: Precise
Buttons: Perfect thumb button placement
Buttons: Horizontal and Vertical scroll
Feel: Perfect fit for finger-control
Cons:
Finding the right peripherals for you can be tough. Everyone's bodies are a different shape, their muscles differently conditioned, and their furniture differently arranged. There is no one device that will be perfect for everyone; hell, Danny Kim from Zowie takes a sampler case to events. The moral of the story? If you have unusual requirements, try before you buy. And that I'm an idiot who now owns a lot of mice.