Welcome to my 2018 NA LCS Spring Split Preview Series! I'll be releasing my thoughts on each team during the 10 days before the season opener on Saturday, January 20th.
Today, a lesson in approaching esports from the outside: Echo Fox
November 7th, 2015.  Another humdrum night early in the NBA season. The Utah Jazz had just defeated the Memphis Grizzlies 89-79, and small forward Gordon Hayward went on NBA TV to give the customary victors post-game interview. He fielded standard basketball questions from the panel on style, coaching philosophy, and the play of his teammates.
And then, near the end of the interview, this exchange occurred:
It wasn't surprising that Hayward could field the question. He's long been an avid gamer (you might remember his appearance in Boston last year) and defender of esports to the wider world. No, the real surprise was the man who asked. Rick Fox, the debonair three-time NBA champion, didn't fit the stereotype of a League of Legends enthusiast. An extroverted, rich basketball star turned actor, Fox's niche inquiry seemed to come out of left field, but in reality, it was the tip of an iceberg that signified a dramatic shift in the esports ecosystem for years to come.
We forget that amid the recent involvement from big teams like the Golden State Warriors, Cleveland Cavaliers, and Houston Rockets, Rick Fox was one of the first NBA figures to take a real stake in the future of NA LCS. At a time where return on investment was far from assured, his risk created a blueprint for other outside investors learn from, and lent legitimacy to unfamiliar esports territory.
But most importantly, his approach to the league—a combination of passion, eagerness, and humility always conducted with a smile—set the appropriate tone for every non-endemic interest that wanted a piece of the pie. A serious partnership with Riot Games could only be achieved with mutual respect from both sides, and as Fox constantly demonstrates, it behooves organizations to treat the league as a legitimate sporting endeavor, not a group of snotty rando kids playing children's games.
Beginning as a way to connect with his son Kyle after decades of life as an NBA journeyman, Fox's initially benign interest in League of Legends soon evolved into something more.
"I expected to be there in support of my son's passion," Fox said of his attendance to the 2015 NA LCS Summer Split Finals at Madison Square Garden. "I expected to enjoy my time with him. I didn't expect to have a switch turned on. I didn't expect to fall in love."
At the time of his interview with Hayward, Fox had already acted on that love. He was in the process of acquiring the same Gravity Gaming team that OpTic Gaming's owner Hector "H3CZ" Rodriguez ultimately passed on. After a successful purchase north of $1 million via his Vision Venture Partners LLC, Fox renamed the team after himself, and Echo Fox was born.
Fox threw himself into the scene as an active team owner, successfully recruiting Element's star Danish mid laner Henrik "Froggen" Hansen to be the centerpiece of Echo Fox. He worked hard to create a family atmosphere in the organization, frequently making himself available to player's parents and creating Foxcon, an event for players across the organization's disparate esports teams to meet each other.
But despite Fox's whole-hearted involvement, Echo Fox failed to make an impact on the LCS. In four splits over two years, their seventh-place finish in Spring 2016 remains the high watermark. Fox's insistence that the team be 10-men deep in Summer 2017 was a generous sentiment, but the ensuing roster shuffles meant to back up that idea ultimately produced a team that never improved.
Once Echo Fox was granted a franchised spot in the NA LCS, they released their entire roster (save mid laner Tanner "Damonte" Damonte, who now plays for Echo Fox Academy) and began searching for a new family. An increased bankroll born from investment by the New York Yankees allowed Fox to pursue bigger, established names. The roster that he eventually constructed with Head Coach Nick "Inero" Smith will be his organization's biggest test of character to date. It has the potential to be a top-4 team by talent alone, as long as they don't self-destruct first.
Echo Fox will be Joshua "Dardoch" Hartnett's fourth team over a tumultuous year in which he stumbled between Team Liquid, Immortals and Counter Logic Gaming due to toxicity concerns. An explosive carry-oriented jungler facing a Season 8 meta that favors his talents, Dardoch brings skill and a competitive edge to Echo Fox that cuts both ways. He's often confused his own prodigious talent with a right to heavily criticize his own teammates, something that has gotten him suspended and kicked from teams before. Will Rick Fox and his family-styled organization finally be the ones to solve Dardoch's attitude problem? Or will Dardoch continue to ignore the lessons of his past mistakes? It's a familiar question, and the answer will determine Echo Fox's fate in 2018.
One new voice with immediate insight into Dardoch's persona is mid laner Kim "FeniX" Jae-hun, a former teammate from Season 6 Team Liquid. Though Breaking Point never showed them directly at odds, hopefully the two have grown calmer in the intervening year for everyone's sake. FeniX spent his 2017 toiling away in NACS on Gold Coin United, qualifying for the Promotion Tournament twice but failing both times to break into NA LCS. He inherits Froggen's role on the team, and will look to help solve the mid priority issues Echo Fox contended with throughout Summer 2017. With all signs pointing to Azir re-entering the meta, I can't wait for more of this.
The old Dignitas duo of AD carry Johnny "Altec" Ru and support Adrian "Adrian" Ma reunite in the Echo Fox bot lane, hoping to regain the form they lost down the stretch of Summer 2017. Dignitas began starting Altec and Adrian together midway through the split after four consecutive losses. The two veterans brought a dynamic carry threat to the bot lane, securing convincing victories over Team SoloMid, Immortals, Cloud9, and CLG over a 7-2 stretch to end the regular season. Entering the playoffs, Dignitas looked the part of a dark horse with a resounding 3-1 win over Cloud9 in the quarterfinals. But TSM erased them in the semifinals, and after that drubbing, Altec and Adrian never looked the same. Dignitas were swept out of the TD Garden by CLG, and exited the regional gauntlet early with an equally-listless 0-3 at the hands of FlyQuest. So who are Echo Fox getting? The Altec and Adrian that, for a time, looked like the best bot lane in North America, or the invisible duo largely responsible for Dignitas' abrupt end to 2017?
Echo Fox's final piece is top laner Heo "Huni" Seung-hoon, formerly of SK Telecom T1. Huni returns to American shores after a heartbreaking loss to Samsung Galaxy in the World Championship Final, the allure of consistent playing time and a more relaxed working atmosphere too rich to ignore. Unlike most Korean imports, Huni speaks English fluently, and has excelled in NA LCS in the past. His time on Immortals in 2016 (with Adrian, no less) immediately catapulted the new organization into playoff contention, finishing Season 6 with a 33-3 regular season record few have come close to matching. Huni brings a split-pushing style to an Echo Fox team that looked at their best in Summer 2017 when Brandon "Brandini" Chen was given space to do the same. Altec and Adrian have worked with a mechanically-gifted Korean split-pusher before, providing Echo Fox some initial synergy to get out of the starting blocks.
If Echo Fox can come together as a team, without drama or ego, they have the potential to be special. Huni ranks among the best top laners in NA LCS as both a carry and tank player. Dardoch, Altec, and Adrian provide multiple carry avenues for opponents to account for, while at the same time lessening the carry burden FeniX very publicly railed against during Breaking Point. But all of this is contingent on Echo Fox—Rick Fox in particular—being able to control their players, and selling them on the family concept. Fox has broken new ground in the scene before, but for Echo Fox to compete, he'll need to do so one more time.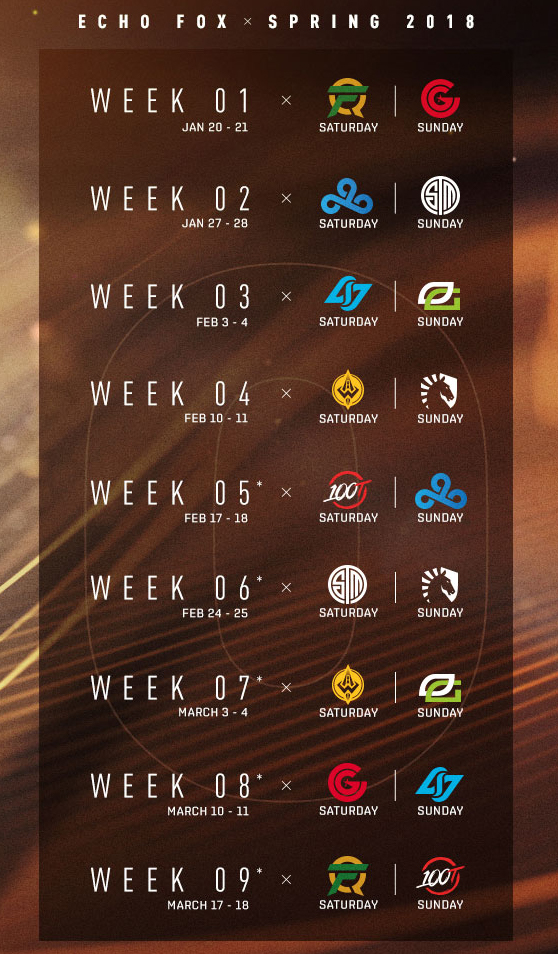 Echo Fox Academy Roster:
Top: Kieran "Allorim" Logue
Jungle: Nathan "TheOddOrange" Ryan
Mid: Tanner "Damonte" Damonte
AD Carry: Lawrence "Lost" Hui
Support: John "Papa Chau" Le
Tomorrow, the Immortals B-Team takes flight…